The Pearl Page
All of our pearls were hand selected to ensure quality. They come from China which is known to produce some of the world's finest freshwater pearls with thickest nacre layer (this is the hard outermost coating of the pearl that gives it it's characteristic shine.) Because our prices are the lowest available, quantities are very limited. All of our necklaces are strung with double silk thread for added strength and of course they are knotted between each pearl to protect each pearl from rubbing it's neighbor. The clasps are all 14K gold. If you do not see a length here that suits you it is always possible to have them restrung by a jeweler. Please click on an image to enlarge the picture.
The Choker
The choker is approximately 18 to 18.25 inches long, this includes the closed gold clasp. It is made of 7 to 7.5 mm freshwater pearls. These sell for the low price of $65.00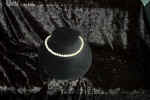 Matinee Length
At this time we are completely sold out of pearl only matinee length necklaces. We do have a few pearl and lapiz, coral, or malachite and gold bead necklaces. However please note quantities of these are extremely limited and they will not last. These necklaces are approximately 27.25 inches long including the closed gold clasp. (older women with fingers that aren't as nimble as they used to be, love this length as you can simply slip it over your head, of course younger women love them too because of their beauty!) They have 5 pearls (7 to 7.5 mm) followed by a small gold bead, a coral, lapiz or malachite bead and another small gold bead. There are 14 of these sequences on each necklace. These sell for the low price of $130.00
Missouri and Oklahoma residents need to add 8% sales tax. Shipping and handling is $6.00 per strand. We can ship using one of the next day services, but the cost will be higher (approximately $14.00 more). We accept Visa, Master Card and personal checks. This is NOT a secure web site, please do NOT send any credit information over the internet. To order please call 816-873-9833. If we are not home we will return your phone call, or you can email karen@thompsontrio.com and I will call you.
To see the kites click here!