Our Return to China
Welcome to our China Adventure. On August 7th at 7:00 am we left Tulsa, Oklahoma aboard a United flight to Chicago, from here we boarded United Airlines flight 851 for Beijing. 14 hours later we landed to find "we weren't in Kansas any more!" Let me tell you nothing has been the same since!
We were met at the airport in Beijing by my new boss Ms. Ma and our waiban Leanne. After sending the luggage (all 500 pounds of it) on to Jinzhou via the night train, we checked into a guest house. Sleep was fleeting as Charlie was up for most of the night. The next morning we boarded a train and 7 hours later we pulled into Jinzhou, Liaoning China.
I have accepted a teaching position here in Jinzhou at the Liaoning Institute of Technology. I'll be teaching Oral English classes with 6 other teachers.
Our address (just in case you take pity on us and want to send a care package) is:
Karen Thompson
Foreign Affairs Office
Liaoning Institute of Technology
169 Shiying Street
Jinzhou 121001, Liaoning
People's Republic of China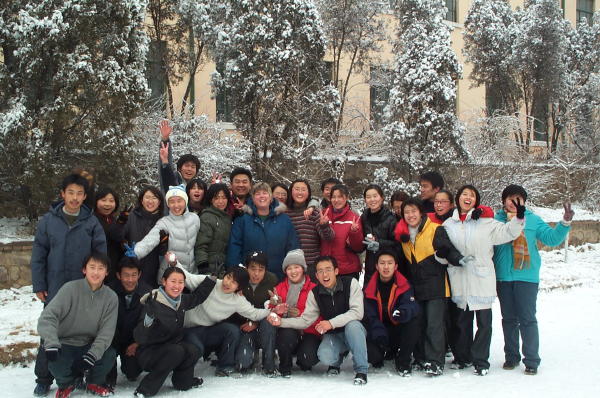 Here I am with one of my Freshman Oral English Classes. We were er...ah.... gathering information for a paper I had them write called "my fun in the snow"
If you would like to automatically receive our journal, please send an email to: KarensChinaJournal-subscribe@yahoogroups.com
Yahoogroups will direct you from there.
June 2001
July 2001
August 2001
September 2001
October 2001
November 2001
December 2001
January 2002
Harbin ...(this page contains TONS of thumbnail pictures of the ice festival and of course my children! Even with thumbnail pictures it takes a while to download.)

Beijing (contains a few pictures)
February 2002
Kunming (this page contains a BUNCH of photo's, I put them all as thumbnails ....to save downloading time...just click on them to view, but I have to warn you, 99% of them have my children in them...you can still see the background though)
March 2002
April 2002
May 2002
June 2002
July 2002